Over 69.82% of shoppers who add products to a shopping cart leave without completing the purchase. Whether the customer was distracted mid-transaction or just browsing, abandoned carts are a huge challenge for many stores, big or small. But WooCommerce abandoned cart plugins can help convert some of those abandonments into actual sales.
In this article, we've gathered some of the best WooCommerce abandoned cart plugins to help reduce your cart abandonment rate and convert those users into potential customers.
But before diving into the list, let's first see why some customers abandon their carts.
Why Do Customers Abandon Their Carts?
1. Change of mind
A customer may have a mood shift midway through their purchase. If they decide against buying, they will simply abandon their carts and close the website.
2. Price comparisons
If a customer finds the same product being sold at a lower price elsewhere, they'll probably abandon their carts and buy from another place.
3. Overly complicated checkout
Another reason why customers may abandon their carts is the overly complex checkout process. You have to ensure the checkout page is not overly complicated; otherwise, you may lose customers.
Now that you know why some customers abandon carts, let's look at WooCommerce Abandoned Cart Plugins.
WooCommerce Abandoned Cart Plugins
1. ELEX WooCommerce Abandoned Cart Recovery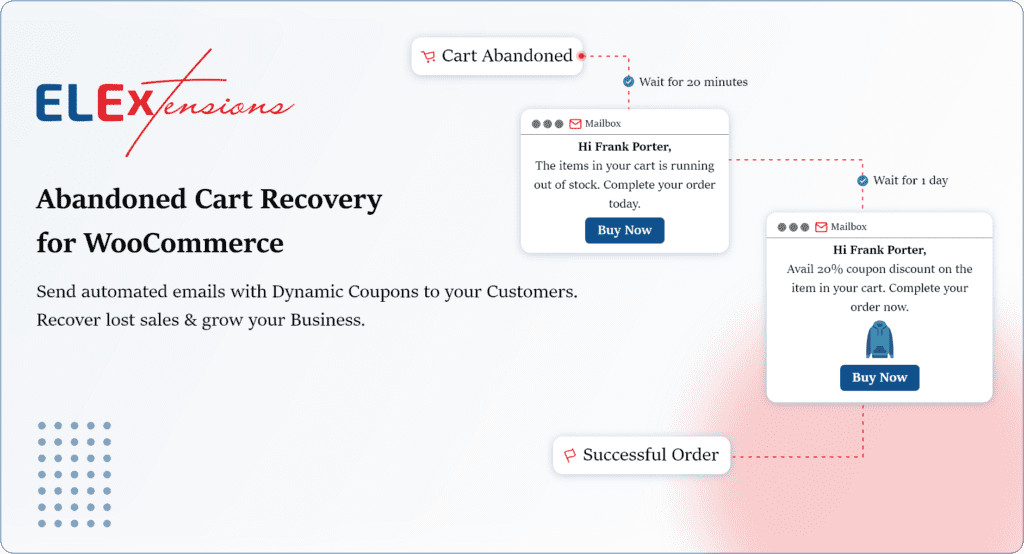 This excellent plugin handles everything from recording abandoned carts, configuring follow-up emails, authorizing discounts, and even generating detailed order reports.
With this plugin, you can keep track of customer carts that have been abandoned and set a specific time at which you want to follow up.
ELEX WooCommerce Abandoned Cart Recovery also allows you to view email logs and order reports. Plus, the plugin follows all FTC guidelines and includes an unsubscribe option just in case your customers don't want to be reminded about the items in their cart.
One of the key features of this plugin is that it can set up conditions and rules depending on many factors, such as different user roles, cart amount, the number of products, and product ID, to send emails only if the conditions are met.
Features
Easy to use.
Rule-based automatic email triggers.
Set a time limit for when an order is considered abandoned.
Custom email templates.
Send Discount Coupons in the Email.
Email Logs.
Detailed order reports.
Price
ELEX WooCommerce Abandoned Cart Recovery is a premium plugin, and it costs $79 a year.
2. Retainful
Retainful adds abandoned cart recovery to your store as well as helps you drive more sales via referrals and next-order discount coupons.
This plugin offers a single-click abandoned cart recovery solution for your store. It can track the carts in real-time, detects cart abandonment, and sends a series of well-timed abandoned cart email reminders when customers abandon their carts.
With this plugin, you can incentivize the customers with a unique coupon code in the abandoned cart emails and motivate them to recover the abandoned carts and complete their purchases. Plus, it provides shortcodes that you can use to personalize each abandoned cart email.
One of the key features of this plugin is that it can capture the customer's email address as soon as it is entered at the checkout. It also comes with an Add-to-cart popup to capture the email address when adding an item to the cart.
Features
One-click email campaign creation with pre-built campaign templates.
Readymade email templates for cart recovery emails.
Unique coupon codes for abandoned cart emails.
Drag and drop email editor.
WPML and Multi-currency support.
Multi-lingual support.
Personalization of emails.
Price
The premium version of the plugin starts at $19 per month.
3. Metorik
Metorik is an excellent plugin with many features, including reporting on subscriptions, managing inventory, creating detailed reports, and much more.
It has a fantastic module for managing abandoned carts, allowing you to analyze all abandoned carts and set email sequences to recover them. You can track every cart in your store and set triggers or responses.
One of the key features of this plugin is real-time tracking, which helps you know just how long it takes for an average customer to make a purchase. This will give you unique insights into how to optimize your checkout page.
Plus, you can also see individual reports for abandoned items, abandoned carts, the average cart recovery rate, and even the average cart value.
Features
Cart tracking and reports.
Send automatic emails based on customer activity, including abandoned carts.
Cost and profit tracking.
Detailed reports of key WooCommerce.
Data integration, e.g., Google Analytics, Facebook Ads, Zendesk, etc.
Google Analytics integration.
Complete multi-currency support.
Unlimited team members with multiple roles/permissions.
Price
For 500 orders, it costs $50 monthly.
4. CartBounty
This plugin offers features like live cart monitoring and tracking, email notifications, seamless MailChimp integration, exit intent popup, clean and lightweight design, multi-language support, and so on.
With this plugin, you'll get notifications about newly abandoned carts and send reminders to customers. The free version allows these emails to be sent via WordPress, but the pro version integrates with Mailchimp.
CartBounty is an incredibly lightweight plugin, so you don't have to worry about it taking a toll on your site and affecting loading times. It's a highly intuitive plugin that lets you quickly optimize and automate your shopping cart abandonment emails.
This plugin features a useful "remember checkout fields" function that lets users reload the checkout page without losing any shipping information they've submitted. This cuts down on buyer friction by preventing them from having to re-enter their info if they click another page.
Features
Automatic coupon generation.
Abandoned cart search.
Automated recovery emails via ActiveCampaign, GetResponse or MailChimp.
ReCAPTCHA spam protection.
Multi-language support.
Support and updates for one year.
Admin notification emails of newly abandoned carts.
Automatic recording of recovered carts
Price
A single-site license costs $81.
5. YITH WooCommerce Recover Abandoned Cart
This is another great abandoned cart recovery plugin. With this plugin, you can define how many emails will be sent and the specific span time (after one day, one week, etc.). Plus, you will have advanced control over reports about abandoned carts.
Using this plugin, you can further entice customers to complete their orders by giving them a special discount coupon. You can customize these coupons by settings their value and validity and having them expire on single use.
The plugin allows you to set a cut-off time for abandoned carts. After the specified time has passed, the plugin considers the transaction incomplete. Aso, highly customizable Email templates are available, and every aspect of the message can be customized, from the sender's name to the reply address.
Features
Auto-delete abandoned carts after a preconfigured time.
Customizable and configurable automatic emails.
Admin notification emails of recovered carts.
Advanced reports and logs, including emails sent.
Dashboard report reset button.
WooCommerce Multi-Currency (WOOMC) support.
Compatible with WPML.
Support and updates.
Price
YITH offers three subscriptions for their Pro plugin priced at $79.99 for a single site.
Wrapping Up
We have shown you some of the best WooCommerce Abandoned Cart plugins with their features and pricing. So which one would you choose? All the plugins above are created to help you recover WooCommerce abandoned carts effectively.
We recommend using the Retainful plugin as it helps you get all the required features in one neat solution. With this plugin, you can automate your email campaigns in minutes, recover abandoned carts, drive repeat purchases with next-order coupons, send order follow-ups, and much more.
We hope this article helped you choose the best WooCommerce Abandoned Cart plugin to reduce your cart abandonment rate and recover lost customers.